Course Description
Diploma in Front End Web Development
This part time evening course has been specifically designed for aspiring or existing web developers who wish to expand their knowledge of web development. The main objective is to upskill to the latest techniques in JavaScript, JavaScript frameworks, layout, tooling (git, node) and cloud deployments. The course assumes a basic level of knowledge of website development equivalent to the IBAT College Dublin Diploma in Web Design. It is not suitable for beginner web developer, students should be able to demonstrate a proficient knowledge of development.
During the course you will be taken from the initial development of a website product listing and booking platform that is using a CSS grid system. You will be shown how to integrate interactive elements to the platform, including how to add include tabs, accordions, content panels and the use of AJAX functions. The main objective of this course is to upskill your existing skills as a web developer to a more advanced level. It includes Client-Side JavaScript Programming for the web and a solid foundation in HTML and CSS code.
Another main objective of the course is to enable existing website developers to develop sites responsive to the latest devices & capable of being deployed as mobile applications on iOS and Android devices using technologies such as HTML 5 and PhoneGap.
Experience virtual learning
IBAT is now offering 100% interactive learning via virtual classrooms, all at an affordable price. We're adapting along with the rest of the world, to the new normal. With an increasing shift towards online learning and as jobs become harder to find, now is the time to take initiative and upskill by gaining a diploma from the comfort of your own home.
Benefit from live sessions with our expert tutors who are teaching in real-time and can therefore engage with you directly. Seize this opportunity to boost your prospects and stay ahead of the competition.
---
| | |
| --- | --- |
| Course Code | CADWEB2E |
| College Name | IBAT College, Dublin |
| Course Category | Computers & IT (Information Technology), Information Technology |
| Course Type | Classroom Based |
| Course Qualification | Diploma |
| Course Location | Dublin, Ireland |
| Location Postcode | Dublin 2 |
| Course Start Date | 17th February 2021 |
| Course End Date | 5th May 2021 |
| Course Fee | 1195 |
| Course Duration | 11 weeks |
| Course Times | Wednesday Evenings 6.30pm to 9.30pm |
| Title of Awarding | Diploma in Front End Web Development |
| Entry Requirements | Applicants must have basic web experience in HTML, CSS or have completed the Web Design Diploma at IBAT or equivalent. |
| Career Path | Students holding an IBAT Diploma in Front End Web Development will be able to apply for more senior positions as web developers. The course will allow existing web developers to expand their knowledge of website developemnt and enable them to create more advanced web developments and work on more advanced web projects. The course is an excellent introduction to programming for the Web and successful completion will open up many new opportunities within the area. Students who graduate with an IBAT College Diploma Front End Development and are interested in furthering their study in the area of web development are eligible to progress onto the more advanced Diploma in Mobile App Development. |
Course Provider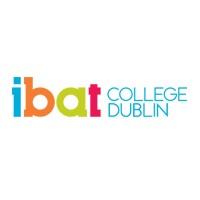 16-19 Wellington Quay, Dublin, Republic of Ireland
Make Enquiry
Please insert your contact details and any additional information you require and we will forward your request to IBAT College, Dublin.
Map
IBAT College, Dublin
16-19 Wellington Quay, Dublin, Republic of Ireland