Course Description
Adv. Montessori with ECCE Major Award – (QQI Level 6)
The Montessori parts of the course train the learners to educate children in a way that gives them the best possible foundation for life.
"Maria Montessori's goal was to develop the whole personality of the child and her system is based on her strong belief in the spontaneous working of the human intellect. The main principle of Dr. Montessori's method is that the child learns by himself from experiences within the classroom. The role of the teacher is to prepare the classroom so as to maximise the benefits of the experiences within it".
While the Early Childhood Care and Education parts provide an opportunity for the Learner to gain and understand a range of theories in relation to child development and be able to implement a range of activities that will promote physical, social, emotional, intellectual development in children from 0-6 years.
Learners will be taught communication skills in both the written word and the spoken word as it is important to be able to communicate effectively with children, their families and colleagues in an effective, caring and professional manner.
They will learn how to respond appropriately to the care and educational needs of children of different ages, stages, interests and abilities, taking account of diversity and promoting equality and inclusion. The learner will be provided with detailed tutoring that both embraces and compliments the themes of Aistear and the philosophy of Maria Montessori.
It is essential that practitioners understand other approaches to curricula so that they can embrace a variety of philosophies and weave certain aspects or thinking into their work. Wherever our students decide to work they will be able to apply knowledge gained during this course that will ensure the safety and well-being of all children and their families.
---
| | |
| --- | --- |
| Course Code | 6M2007 |
| College Name | The Open College |
| Course Category | Education, Montessori Education |
| Course Type | Distance Learning |
| Course Qualification | Level 6 Advanced Certificate (NFQ Level 6) |
| Course Location | Dublin, Ireland |
| Location Postcode | Dublin 18 |
| Delivery mode | Distance Learning |
| Course Fee | 1499 |
| Course Duration | Twelve Months |
| Course Times | This QQI / FETAC Montessori with Early Childhood Care & Education Major Award (6M2007) course is completed through Distance Learning Course and there are no lectures to attend.Students can complete this course within 12 months which is ample time and can start it at any time of the year that is convenient. If students need to extend this period for any reason during or near the end of the course they can request an extension through the college. |
| Awarding Body | QQI |
| Title of Awarding | QQI Level 6 Major award in Early Childhood Care & Education - 6M2007 and a Certificate in ECCE with Montessori Level 6 (The Open College). |
| Entry Requirements | - Leaving Certificate, Level 5 Certificate in Childcare or equivalent and/or work/life experiences. - Garda Vetting is required for all Childcare placements and students can apply for this through The Open College. Please ask for details. - Students must currently be working (or on work experience) in the childcare sector for a minimum of 8 hours per week, throughout the course, as assignments will require learners to draw upon practical experience. - Competent knowledge of English as well as basic typing skills as all assessments need to be typed prior to submission for correction. - If you take this course by distance learning the course material will be posted to you.  You can complete and return assignments/projects which must be typed rather than handwritten either by post or by email. - As this programme is delivered through distance learning or eLearning, students must be capable of studying on their own initiative. - If you take this course by eLearning you will need basic IT skills and have access to broadband. - Learners must be able to attend Exam days as there are certain modules that require supervised examinations to be taken as part of the final Assessments. |
| Career Path | Career Options:- Montessori Teacher (3-6 Years) - Montessori Teacher (3-6 Years) – ECCE Setting.Progression to further Studies: The course is also structured to provide Childcare Graduates with the opportunity to progress to specialised courses in higher education through the Higher Education Links Scheme (HELs).  Academic routes include related degree courses such as: - Level 7 Degree in Early Childhood Care and Education - Level 7 Social Care Practice Degree - Level 8 Bachelor of Social Science - Level 8 Bachelor of Science in Education & Training Students may be eligible for consideration for the Bachelor of Arts (Honours) Montessori Education Degree or related option. |
Course Provider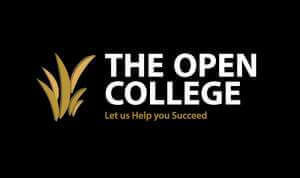 01 206 1750
Unit 9, Leopardstown Business Centre,, Ballyogan Road, Leopardstown, Dublin, Ireland
Make Enquiry
Please insert your contact details and any additional information you require and we will forward your request to The Open College.